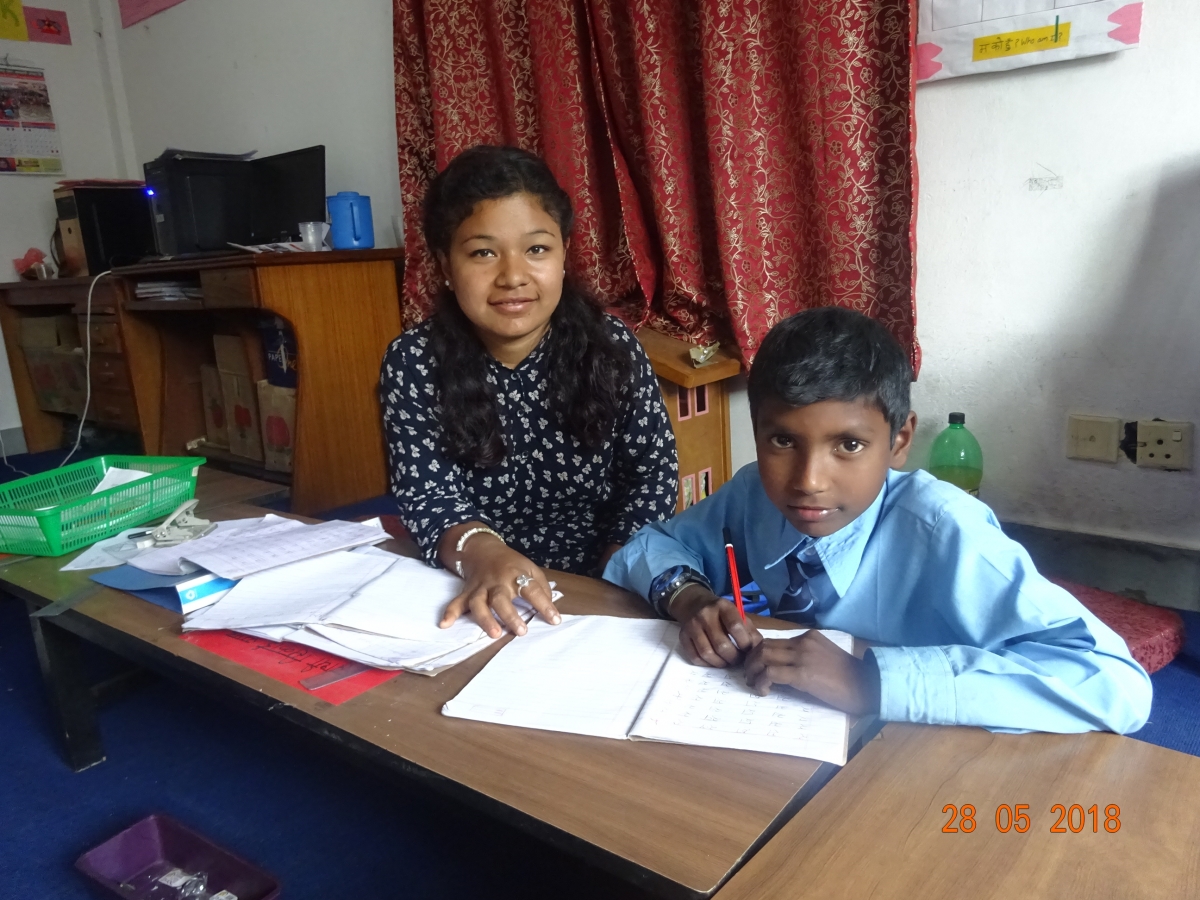 Kamal Kumar Ram (real name changed) was 10 years old when he was enrolled at the Swayambhu KSK center on 7th February 2017. When Facilitators at Swayambhu KSK were doing a survey to identify out of school children, they found Kamal at home with his mother. Kamal lives with his parents and two other elder brothers in a small room near Swayambhu. They are original inhabitants from Motihari, India and migrated to Kathmandu, Nepal in search of better livelihood. Kamal's father is a shoemaker and sits alongside the street waiting for passerby to shine and mend their shoes. His two elder brothers also work as salesman in others shops. His mother goes around the neighborhood washing dishes and clothes, cleaning and taking care of newborn babies and their mothers etc as wage labor. They live in Kimdole ward 15.
According to Kamal's mother, he was never enrolled in school because her husband could not afford to send any of his sons to school. He was also alcoholic and some of the earned money would go to his bad habits. Kamal was sent to KSK because it was free of cost and also promised an education.
Kamal has been a regular learner at the center coming every day and the changes in him have been gradual and progressive. He now comes with clean and tidy clothes and knows how to greet elders and friends. He used to be very restless and would fight with his friends at the center disturbing everyone. His behavior has now been more calm and patient. Facilitators have used the game method while teaching with him because he only loves to play and learn.
In the month of April 2018 (Baisakh), Kamal was mainstreamed in Ishwor Primary School in ward 15 nearby the KSK center in grade1. He has been a regular learner in school and comes regularly to the KSK center after school to receive homework support from the KSK facilitators which they are providing at the center after 4:00 pm. He has also been receiving school support materials from the CLC center through community donors.