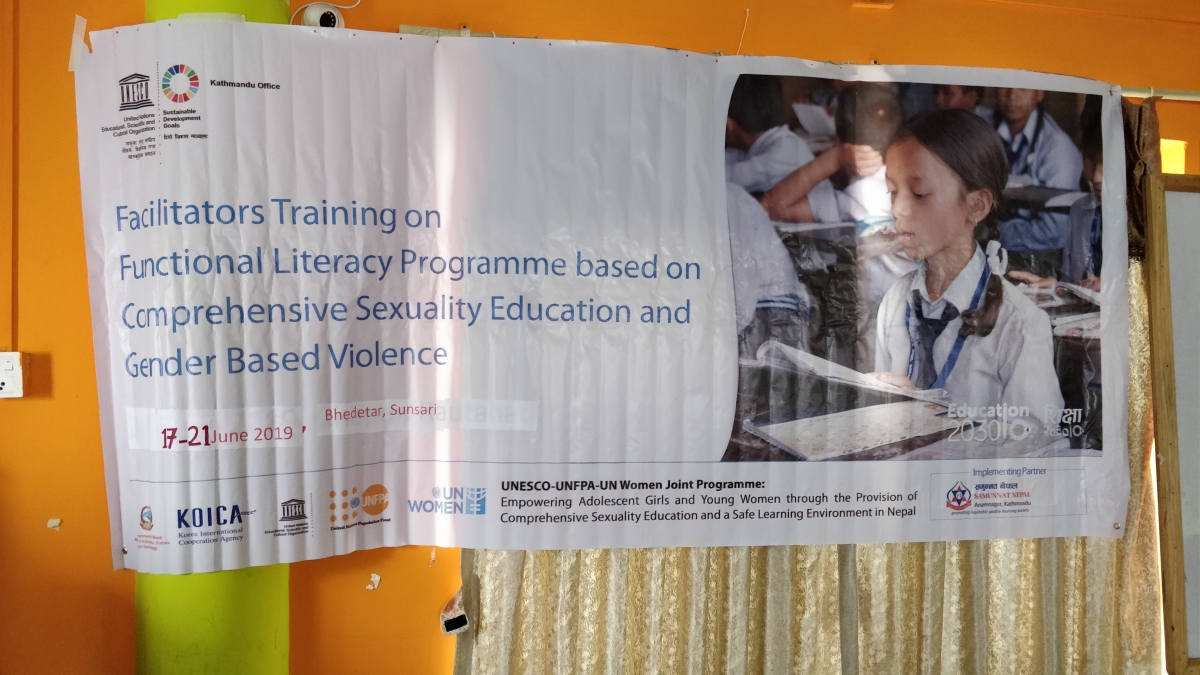 Start Date: 2019-07-01 15:59:00
End Date: 2019-07-26 15:59:00
Program
Program name:
Empowering the Adolescent Girls and Young Women through the provision of Comprehensive Sexuality Education and a Safe Learning Environment
Empowering the Adolescent Girls and Young Women through the provision of Comprehensive Sexuality Education and a Safe Learning Environment with the financial support of KOICA in 2016, in cooperation with UNFPA and UN WOMEN along with the coordination of Ministry of Education Science and Technology (MoEST) is a joint program. The program was launched in 5 districts of Nepal. Sunsari, Rautahat, Sarlahi, Achham, and Bajura are the implementing program districts. Functional literacy is the program of Non Formal Education (NFE) implemented by the Government of Nepal (MoEST) with the separate package of Continuous Education. In order to implement this program, continuous education package of NFE was reviewed diagnostically and incorporated the CSE and Gender Based Violence (GBV) contents in the package. Realizing the fact and importance of CSE and GBV another supplementary material was made separately with the major focus on CSE and GBV. Supplementary package (Book) is in the local language (Maithili) also focusing on program district of Terai region (districts of province no. 2) for the ease of teaching-learning in the local context. Reviewed existing packages of Continuous Education includes Level 1 book – for illiterate and Level 2 book – for literate. Supplementary book on was for both types of participants. The target age group of this package is 10-24 yrs. especially focusing on adolescent girls and women. As per the package facilitators have to conduct 2 hours session per day for 4 months. Facilitators are selected as per the guideline. Sessions are run in the Community Learning Center (CLC). Program is implemented through a local partner in concerned districts. In 2018, facilitators training was held as per the reviewed package and classes were run for 4 months. Package aimed to empower the target group making literate to carry out daily life activity along with the CSE and GBV knowledge and developing the life skills to deal with the risk of GBV and sexual health. The presented details are of the facilitators training of same reviewed package.
In this context, SAMUNNAT Nepal was involved since the starting of this program for reviewing the existing government package of continuous education and preparing the separate supplementary material (Book) focusing on CSE and GBV. SAMUNNAT Nepal reviewed the existing package of level 1, level 2 and prepared supplementary material focusing on the current context of Nepal as well as the global perspective of CSE and GBV, with the expert team. SAMUNNAT Nepal supported technically in the contents by reviewing the packages and conducted training focusing on the current reviewed package. Series of training was held in coordination with UNESCO. In 2018 (March & May), Facilitators training was held at Sunsari (Dharan) covering the participants of Sunsari and Sarlahi district. In Rautahat district, separately training was held covering the same district. In first phase of training, total participants were 64. Presented details covers the all training held for the current year.
Training was held in the month of June and July, 2019.The training was conducted in coordination with the UNESCO. In total 80 participants were trained on revised package of continuous education based on CSE and GBV. Among 80, there were 3 male and 77 were female. Education officer from Education Development and Coordination Unit (EDCU) Sunsari, District Coordinator from Asman Nepal Rautahat, Field supervisor from Peace Win Bajura and Samudayik Bikash Abhiyan Sarlahi were also included in training. In total 4 participants (focal person) were from implementing organization. All the training were residential for 5 days.
Participatory and activity based methodology were used in training. Power point presentation were also used in the training. Training was conducted in participatory environment. Micro teaching was one of the major part of the training, which enriched as well as empowered the knowledge and skills of the participants. Each of the participant practiced in micro teaching followed by the evaluation for the improvement. Steps of class conduction was especially focused. Training was fully based on the reviewed package including the supplementary material (Book) of CSE and GBV).
Training background:
Functional literacy is Non Formal education program of the government of Nepal. Continuous Education is the package of functional literacy program. In this package there are level 1 and 2 book. This book was revised technically and incorporated CSE and GBV contents. Another, supplementary material (Book) was developed with major focus on CSE and GBV. In total there are 3 books. As of the government program in non-formal education, continuous education packages was reviewed as well as added with CSE and GBV and classes are run through the same packages in CLC. In order to capacitate on reviewed package based on CSE and GBV, this training was organized in coordination with UNESCO. Through functional literacy program of government, continuous education packages are implemented, so training was named as Facilitators Training on Functional Literacy Program based on Comprehensive Sexual Education and Gender Based Violence.
Objectives of training:
To inform the facilitators about the functional literacy package including the revised package and supplementary materials on CSE and GBV.
To equip the facilitators with the required skills and methodologies to deliver the functional literacy package in an effective manner.
To share key messages and information on CSE and GBV including violence against women.
To capacitate the facilitators with their roles and responsibilities to conduct the functional literacy classes in an effective way.
To promote CSE and GBV focused learning and sharing opportunities among the local communities
Training in glance:
Activity:
Facilitators Training on Functional Literacy Program Based on Comprehensive
Implemented district:
Sunsari, Rautahat, Sarlahi, Achham & Bajura
Financial support:
KOICA
Cooperation:
UNESCO, UNFPA & UN Women
Coordination:
MoEST
Implementing partner:
SAMUNNAT Nepal
Training duration and type:
5 day, residential
Date & venue:
Training was held from June 3 to July 1, 2019 (Jestha 20 to Asadh 16, 2076) covering five district.
S.N.

District

Date of training

Remarks

1

Rautahat

June 3-7, 2019

Jestha 20-24, 2076

Participants from both district

2

Sarlahi

3

Sunsari

June 17-21, 2019

Asadh 2-6, 2076

Participants from Sunsari district

4

Achham

June 27-1 July, 2019 Asadh 12-16, 2076

Participants from both district

5

Bajura
Participants' background:
Participants were from 5 district.
S.N.

District

No. of participants

Female

Male

1

Rautahat

16

15

1

2

Sarlahi

11

10

1

3

Sunsari

23

22

1

4

Achham

15

15

0

5

Bajura

15

15

0

Total

80

77

3